| | |
| --- | --- |
| 230 V | 230В |
| 12 V | 12В |
| LVT motor (35, 45, 55 mm tubes) | LVT мотор (трубы 35, 45, 55 мм) |
| LVT ZEBRA motor* (35, 45, 55 mm tubes) | LVT ЗЕБРА мотор* (трубы 35, 45, 55 мм) |
| LVT DAY/NIGHT motor (45, 55 mm tubes) | LVT «ДЕНЬ-НОЧЬ» мотор (трубы 45, 55 мм) |
| LVT DOUBLE motor (45 mm tube) | LVT DOUBLE мотор (труба 45 мм) |
| LVT MONO motor (45 mm, 55 mm tube) | LVT MONO мотор (труба 45 мм, 55 мм) |
| LVT DOUBLE ZEBRA motor (45 mm tube) | LVT DOUBLE ЗЕБРА мотор (труба 45 мм) |
| LVT MONO ZEBRA motor (45 mm tube) | LVT MONO ЗЕБРА мотор (труба 45 мм) |
| LVT MONO motor (45, 55 mm tubes) | LVT MONO мотор (трубы 45, 55 мм) |
| LVT MONO ZEBRA motor (45 mm tube) | LVT MONO ЗЕБРА мотор (труба 45 мм) |
| | |
| --- | --- |
| LVT cassette motor** (35, 45, 55 mm tubes) | LVT кассета мотор** (трубы 35, 45, 55 мм) |
| LVT ZEBRA cassette motor (35, 45, 55 mm tubes) | LVT ЗЕБРА кассета мотор (трубы 35, 45, 55 мм) |
| * LVT ZEBRA motor model is always manufactured with the installation profile. | * Модель LVT ЗЕБРА мотор всегда изготавливается с монтажным профилем. |
| ** LVT cassette models with 355 mm tubes the motor is always located leftward | ** В моделях LVT кассета с трубой 355 мм, мотор всегда располагается слева |
| LVT MONO casette motor (45 mm tube) | LVT MONO кассета мотор (труба 45 мм) |
| LVT MONO ZEBRA cassette motor (45 mm tube) | LVT MONO ЗЕБРА кассета мотор (труба 45 мм) |
| | |
| --- | --- |
| Radio (35, 45, 55 mm tubes) | Радио (трубы 34, 45, 55 мм) |
| Amigo DM25TE or DM35EW/Y drive, 220 V | привод Amigo DM25TE или DM35EW/Y, 220В |
| Amigo radio transmitter | радиопередатчик Amigo |
| Radio with battery (35, 45, 55 mm tubes) | Радио с АКБ (трубы 35, 45, 55 мм) |
| Amigo DM35LE drive, 12 V | привод Amigo DM35LE, 12В |
| Amigo ВС264 charger for LE drives | зарядное устройство Amigo ВС264 для приводов LE |
| Amigo radio transmitter | радиопередатчик Amigo |
| Driven (55 mm tube) | Приводное (труба 55 мм) |
| Amigo DM35S drive, 220 V | привод Amigo DM35S, 220В |
| Amigo driven switch | выключатель приводной Amigo |
Warranty dimensions

Verification of compliance with the warranty dimensions is carried out in 2 stages:
1. Check the maximum winding height of the selected fabric for each system individually (ref. to the tables of Appendix 1 for rolled fabrics and Appendix 2 for ZEBRA fabrics)
2. Check the possibility of manufacturing the selected system depending on the product dimensions, tube diameter and fabric group (ref. to the diagrams of Appendix 3 for 35, 45 and 55 mm tubes).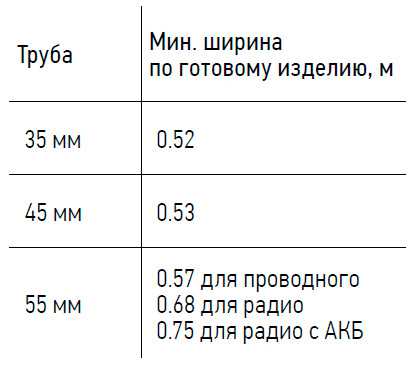 Tube

Min. width as per the ready-made product, m

35 mm

0.52

45 mm

0.53

55 mm

0.57 for wire

0.68 for radio

0.75 for radio with battery

The maximum noise suppression during the motor running inside the product is achieved by using the special tube 55 geometry. Each LOUVOLITE motorized product with the drive with integrated battery shall be tuned in to an individual channel of the radio transmitter.
Only a multi-channel radio transmitter is used to implement group control of the products with drives with integrated battery. No additional elements required.
DC516 or DC209 relay shall be always used to implement group wire control. There are no restrictions for the implementation of group radio control of the products with drives without integrated battery.

Specifications


Characteristics

Tube

35 mm

45 mm

55 mm

Radio

Radio with battery

Radio

Radio with battery

Wire

Radio

Radio with battery

Amigo drive

DM25TE-1.5/32

DM25LE-1.1/40

DM25TE-1.5/32

DM25LE-1.1/40

DM35S-6/28

DM35EW-6/28

DM35LE-3/28

Operating voltage, V

100-240

12

100-240

12

220

220

12

Power consumption, W

12

-

12

-

121

133

-

Wire length, m

1.0

1.5*

1.0

1.5*

1.0

1.0

1.5*
* Charger wire length
Motor protection degree: IP44
Temperature mode of operation: from 0℃ to +40℃
LE drive battery type: lithium
Number of up/down operating cycles on one battery charge: up to 200 (corresponds to approx. 3 months of work)
Battery charging time: approx. 6 h for DM35LE and approx. 2 h for DM25LE
Drive location: left or right
Maximum continuous run time: up to 4 min.